Festival celebrates all things seafood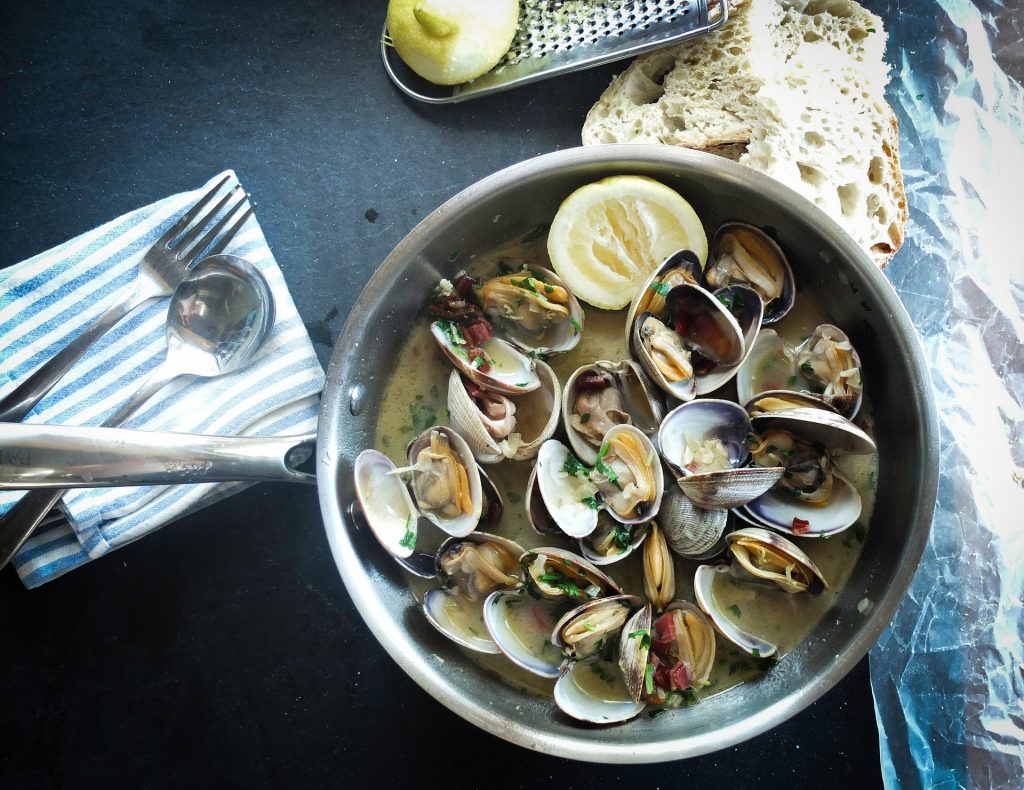 The Nyetimber Dorset Seafood Festival has announced a line-up of top chefs for the 2019 event at Weymouth Harbour over the weekend of July 13 and 14. Chefs with a passion for seafood will take part in cooking demonstrations across two stages.
The festival brings together top seafood producers, chefs and fisherman to celebrate all things seafood.
Top chef Mitch Tonks, who is opening his seafood restaurant, Rockfish, in Weymouth this summer, will be joined on stage by his friend Mark Hix, former Weymouth College student, restaurateur and food writer. Other chefs will include:
Nigel Bloxham from The Crab House Cafe, nominated for 'Restaurant of the Year' at the British Restaurant Awards.
Title sponsor Nytimber, and award-winning drinks columnist for the Sunday Telegraph and Stella Magazine, Susy Atkins, will be talking about English Sparkling wine and holding tastings.
John Wright of River Cottage is a keen forager.
Pete Murt, head chef at Rick Stein, Sandbanks.
Nick Evans, head chef lecturer from the Rick Stein Cookery School
Capture National Park nature on camera
The South Downs National Park photography competition is now open, with a first prize of £250 for the amateur or professional photographer who best captures this year's theme of 'Experiencing the natural world'.
Judges are looking for inspiring images that portray the beauty of the National Park- all while being active.
So whether it's walking, cycling, horse-riding, walking the dog counting butterflies bird-watching or having a picnic, they are looking for images that show people enjoying the amazing landscape.
Steve Watkins, editor of Outdoor Photography magazine, and award-winning photographers Rachel Tailbart and Finn Hopson are returning to judge the 2019 competition.
A second prize pf £150 and a third prize of £50 are also on offer. This year the judges are also looking for images capturing the wildlife of the South Downs and the winner will receive £100.
Entries close on October 18.
Find out more and download the entry form by clicking here: www.southdowns.gov.uk/enter-the-south-downs-photo-competition
All-inclusive is the big winner in holiday stakes
All-inclusive holidays look set to be this year's big winner in the overseas travel market as summer bookings reveal an eight percent rise that is likely to smash the record 46.8 percent of package holidaymakers who took one last year.
However, Post Office Travel Money research has found that low prices in European resorts boosted by sterling's strength, will make B&B holidays a cheaper bet for most people.
Half of all-inclusive holidaymakers surveyed by the Post Office for its annual All Inclusive Holiday Report rated them good value because they do not need to take holiday spending money. The research also revealed a 12 percent increase to 56 percent in the numbers and families who think they are great option as they cit the cost of children's meals and drinks.
However, despite some evidence of belt-tightening, the report found that more than 80 percent of families splashed extra cash to the tune of more than £407 (down from £431 last year) on their last all-inclusive holiday.
With prices down in many European resorts this year and sterling remaining stubbornly strong against the euro and other European currencies, the reality is that the price of a week's all inclusive holiday for a family of four with the average levels of extra spending added could cost as much as 85 percent more than a B&B holiday that includes the cost of lunch and evening meals with drinks in local resort restaurants.
When Post Office Travel Money compared the price of a week's family all-inclusive summer holiday in ten European destinations with the B&B alternative, it found that B&B was a cheaper option for bargain hunters in all ten destinations.
The biggest savings were in Malta and Turkey. An all-inclusive week for a family of four in Silema cost 85 percent (£1860) more than B&B. Bargain hunters will save almost as much- £1217- in Marmaris. A week's B&B cost £1462.67 compared with £2679.43 for all-inclusive.
There were big savings in the row of the leading family favourites as well. In the Costa del Sol, going B&B saved £342 or 17 percent, while B&B in the Algarve saved £665, slashing a third off the all-inclusive holiday cost.
Do you have any travel news to share? We want to hear about it!
Let us know what you think and share your experiences with us and others. Just follow us on Facebook, Twitter, Instagram and YouTube