Getting There
The Quays is ten minutes' drive from Manchester city centre, 20 minutes from Manchester Airport, and a quarter of a mile from the motorway network. From the M60, take junction 12 for the M602 and follow signs for The Quays
FIRST THING on a sleepy Sunday morning and there was already someone standing under a giant Coronation Street sign, pointing up at it for a photograph. Behind the wall you could just see the tops of those familiar grimy terraced roofs… although there was no sign of the cat.
This is the new set of the national institution soap opera at ITV's base in MediaCityUK at Salford Quays, Greater Manchester's showcase waterfront. A closer look at the tops of the buildings and you can see they are propped-up façades.
It's a great spot for a picture, though, and there's another one across the water on the BBC side of the Manchester Ship Canal – the Blue Peter studios.
Further into the heart of MediaCityUK is the huge piazza – a public space twice as big as Trafalgar Square.
Day to day, the piazza is somewhere for staff from the media and digital industry offices to grab a breath of fresh air and for visitors to Salford Quays to wander, perhaps in the hope of spotting a TV star or two.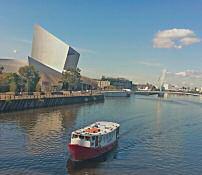 The previous evening it was turned into a very effective outdoor performance area for HONOUR, a new artistic commission to commemorate the 100th anniversary of the start of the First World War.
The 45-minute, immersive, multisensory event was an exciting collaboration between artists from the UK and Europe, bringing memories of war to the modern backdrop of MediaCityUK and The Quays. Inspired by the words of Great War poets and the stories of ordinary men and women, HONOUR reached its emotional peak as hundreds of voices drawn from local choirs rose up in song.
Earlier, giant images were projected on to the buildings, dancers interpreted the agony of battle, and fireworks reflected in thousands of windows sent explosive echoes down the steel and glass canyons of the city.
There will surely be many more evenings in this spectacular setting.
Although the Media City is basically a series of office blocks, albeit designed to give a modern and dramatic skyline, it does add quite a new dimension to the established phases of The Quays. It's an interesting urban stroll, easy because it's flat. Then you can take the bridge over the canal to the Coronation Street sign.
There's also a forest of giant satellite dishes beyond the ITV building alongside the canal – like a field of alien mushrooms that could be straight out of Doctor Who.
Where To Eat 1
The Lowry Restaurant: 200-seater dining with waterfront views
Where To Eat 2
The Chop House at The Copthorne Hotel: an extensive à la carte menu with lovely quayside views