Looking up from the foot of the sheer sandstone cliff face, you see laid out above you a snapshot of how the Earth was born and developed – a cross-section of millions of years of history.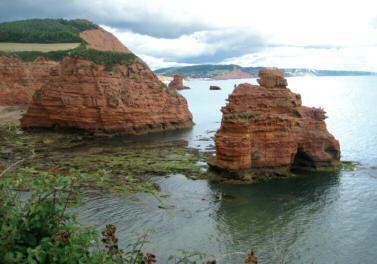 The layers of different types of rock, striped like a Mark Rothko painting, are the geological slices that make up our planet – or at least this corner of it.
This is Ladram Bay on the Jurassic Coast, a breathtaking 95-mile journey through time on England's southernmost shore and its hinterland.
At the other side of the beach, the sea washes around the spectacular, otherworldly stacks of ancient rock rising from it. The shallow turquoise waters could almost be in the Caribbean or Indian Ocean – and you have to remind yourself this is Devon not the Dominican Republic.
The desert-red Triassic rocks of East Devon mark the oldest and westernmost point of England's first and only natural World Heritage Site (WHS).
Covering 95 miles, the epic sweep of coastline on the English Channel contains rocks recording 185 million years of the Earth's history – that's about two million years a mile…
Begging for a Clannad-style soundtrack, it's the only place on the planet where so many millions of years of the Earth's history are sequentially exposed in dramatic cliffs, secluded coves, coastal stacks and barrier beaches.
The 'tilt' of the rocks creates a unique 'walk through history' from 250 million to 65 million years ago – from ancient deserts to tropical seas – through the Triassic, Jurassic and Cretaceous periods as you walk eastwards along the site. And unlike some, less accessible sites elsewhere in the world, it can be walked along its entire length, on the South West Coast Path. The path is perfect for the tourist, rambler, ornithologist, geologist – or even military history buff.