APAVEMENT table in the main market square of Krakow as a golden evening melts into twilight is a grandstand for people-watching. Hundreds of locals promenade through the square. Street entertainers patrol, too – from a toff in evening dress and a top hat, but on impossibly high stilts, to a chap with a Clark Gable moustache playing gypsy violin.
The ring of horses' hooves on stone paving precedes the next appearance of one of the beautifully turned-out coaches taking visitors on a tour of the old town. The drivers and attendants are also immaculate.
As dusk falls, youngsters appear at all the windows of a building across the square. They do their own people-watching, perching on the windowsills, before heading out into the throng for an evening out.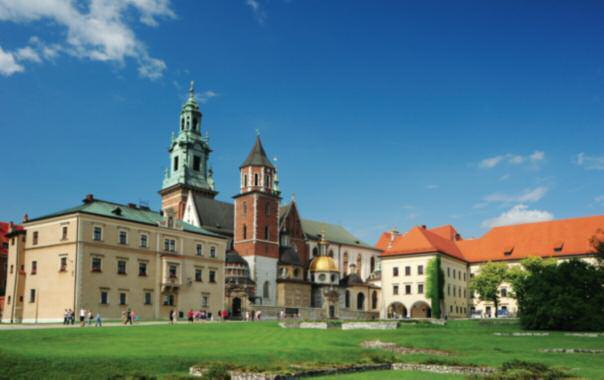 The towers and facades of the Cloth Hall in the middle of the square and the churches and buildings around its edges are now lit up. It's a warm evening, the food and wine are excellent and the atmosphere continues to buzz well into the night.
In most other European cities a coffee or a beer, let alone an evening meal, would be at a premium with this sort of setting. Here it is surprisingly reasonable. Certainly prices are lower in the side streets but this is no Vienna, Berlin or Milan.
The former capital of Poland offers as much history and architecture as any city in Europe. The Main Square itself is the
largest medieval square in Europe, measuring 229 yards by 231 yards. It was first laid out in 1257 and through a planning charter became the centre of a network of streets and squares in mainly square blocks radiating out to the city gates. In the centre, the much-remodelled Cloth Hall is bustling with market stalls in its ground-floor arcades along with tearooms and shops. On the upper floor are galleries of Poland's First National Museum.
St Mary's Church is one of the highlights of the square, with its amazing altar screen carved by sculptor Veit Stoss in the mid-15th century. It took him 12 years to complete and depicts the Virgin Mary surrounded by the apostles. The altar itself is 43 feet high and 26 feet across. The figures are nearly ten feet tall, carved from trunks of 500-year-old lime trees.
Fifteen feet under the square is a relatively new museum where you can see the original square from medieval times. Archaeological excavations have revealed much from the times when the square was at a lower level and was subsequently built over by later generations.
Just outside the square is the Collegium Maius, one of the oldest medieval university buildings in Europe – Krakow University has survived for 600 years. Scientist Nicolaus Copernicus graduated here, and visitors and students mingle in the ancient passageways and courtyards