Getting Around
There's a very good network of bus routes that run to the main towns, villages and some of the resorts on the island. If you want to get off the beaten track and explore some of the beaches, renting a car, motorbike or moped is highly recommended. The main routes are generally in very good condition and well signposted. It is the parking that is very limited in towns and there are pay-to-park areas, with lots of euro coins required. Taxis are very reasonable – it's best to check the rate first. The drivers' command of English is excellent.
MY TWO sisters and I decided to take our parents and one of their granddaughters on a sunshine holiday to Menorca. It was such a success that we are all going again this summer.
The Rogers family cast for the trip was:n Parents: Gordon, 83, and Janet, 78 (Choiceyoga column) nSisters: Julie, 55, Gail, 52 (ChoiceYoga expert), and Tracey, 49 n Granddaughter: Hannah May, 16 (Tracey's daughter).
This all came about when we three sisters enjoyed a week in Menorca a couple of years ago. We made friends with a family consisting of mum and dad both in their 80s and their two daughters in their 50s. We were all in the Rafalet Apartments in S'Algar. The parents had been visiting Menorca for more than 25 years and their daughters for the past 20 years. As a family they were having a
wonderful time and the parents loved having them with them; the sisters loved being able to spend quality time with their parents, too.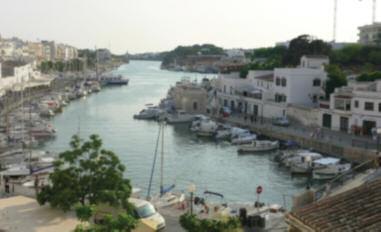 This planted the seed for us asking our mum and dad to come out with us the next year. We made it clear we would organise all the travel and show them around. Without hesitation, dad said yes and as soon as we asked mum, that was it. So last June we all set off in a taxi for Luton Airport and arrived in sunny S'Algar after a two-hour flight and a 15-minute taxi journey from Mahon. With the cases left in apartments next to each other, we all went to the local supermarket, two minutes away, to get essentials as we were self-catering. Within 15 minutes we were all sitting on our decking having our first lunch together, mum and dad already relaxed from the journey.
The same day, possibly 30 minutes after arriving, we bumped into the family we had met the year before. Hugs, kisses and introductions of parents took place; they got on well straight away.
Mum and dad had their own apartment which was two-bedroomed, sleeping four. We three sisters had the adjoining apartment. Hannah May used her 'nanny and poppy's' apartment as her wardrobe in the spare room and slept with her mum in our apartment. There were twin beds in all apartments.
We had made sure mum and dad knew they did not have to do everything we did. As a group we could split up, do things together or they could go off on their own. Mum (Janet) came down to the beach with me one early morning to do yoga on
the beach platform right in front of the sea. I even tried some new moves out on mum to take back to my classes. I didn't crack the whip and make mum do yoga; she came knocking on the apartment door at 8am asking if she could join me.
Some of us are quite early risers and some days we walked around S'Algar before we had breakfast. Others stayed in bed or sat in the early-morning sun. After breakfast we would discuss where we would like to take mum, dad and Hannah that day, all of them keen to see as much as they could, and off we would go. Going with the 'hassle'-free holiday for mum and dad, I held the 'kitty' which was topped up when necessary. Mum and dad like to treat us girls, which is brilliant, but we made them agree that all bills would be split six ways.
What we did in Menorca as a threegeneration family shows what a fabulous island this is for all ages, levels of fitness and mobility. We all agreed Menorca is the jewel of the Mediterranean. It has countless coves and beaches, crystal-clear water and goodnatured people, probably due to the lovely weather. The description we found suited it best was 'a tranquil island for all'.