"Rhossili Bay at the end of the Gower peninsula has to be one of the finest beaches and seascapes in the world"
A brisk breeze ruffled the cliff grasses and helped the tide push in the waves along miles of beach rolling up on to the flat sand in sheets of white foam.
From my bench perched on top of the cliff I could look along four miles of sand and see the black dots of surfers paddling into the breaking seas. On the shore a few dog walkers, their bright coats picked out by the sun, took the spring air.
Rhossili Bay at the end of the Gower peninsula has to be one of the finest beaches and seascapes in the world. There are plenty of other superb beaches along the Gower, too. It feels rugged and unexploited yet it is just a few minutes from the city of Swansea.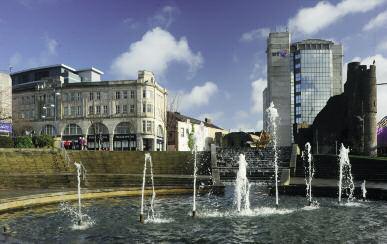 It's been a big year for Swansea, celebrating the centenary of the birth of poet, writer and broadcaster Dylan Thomas. The annual Dylan Thomas Festival from October 27 to November 9 has the centenary theme this year. Full details are on the website: (www.dylanthomas.com).
Our article in the June issue concentrated on Dylan's Swansea, but the writer also loved the beauty of the Gower. A camping trip there is featured in one of the collection of short stories Portrait of the Artist as a Young Dog.
Swansea Bay and the Gower, though, have plenty more to offer visitors.
Swansea city centre is a mixture, the remains of the castle blending with new buildings in Castle Square. Behind the castle ramparts is the Parc Tawe shopping centre containing an unexpected oasis.
Plantasia is a tropical collection of plants and animals under a glass pyramid. There are snakes, spiders, creepy crawlies, parrots, tamarind monkeys, terrapins and chameleons as well as tropical fish and koi carp. These displays are dotted around among the plants from tropical and arid lands. Website: (www.plantasia.org). While in the city centre make sure you visit the indoor market. The welshcakes hot off the griddle are not to be missed. There are all sorts of food there, including fresh seafood and the local speciality, cockles.
We took a short walk to the marina; you can cross the yacht basin there and then walk along the seafront right around the bay to the fishing village of Mumbles.
On the city side of the marina are two excellent museums – the National Waterfront Museum and Swansea Museum. Swansea Museum is the oldest museum in Wales. The National Waterfront Museum uses technology to create a modern and interactive exploration of the history of the principality.